English Leicester Fleece
The wool is stylish in character, free, high yielding, with a well defined crimp and with a particularly high lustre. Lustre refers to the ability of the wool to reflect light, giving it a brighter appearance than other wools. This lustre is retained when dyed making for rich bright colours.
For hand spinners and weavers the wool has no superior for length and a soft silky handle. Wool from the fine end of the scale is most suitable for lace knitting, with the stronger wools used for outer garment knitting and crochet, hand woven wall hangings, rugs, and craft work. English Leicester fleece is also ideal for felting.
Selected fleeces are used to make dolls' wigs and dye perfectly in natural hair colours. Commercially spun knitting yarn is also available in 4 ply and 8 ply, hand dyed in a variety of colours.
Fibre diameter: 32 - 38 microns
Staple length: 200 - 250 mm
Fleece weights (ewe): 5 - 6 kg
For sale
Fleece can be purchaed directly from many of our members:
Member directory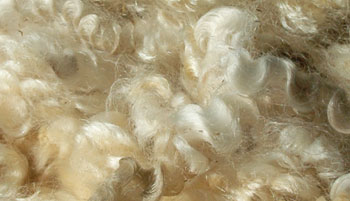 ---
English Leicester fleece in action:
Rebecca Kissling
Rebecca is a Textile Artist, Fashion Designer who has fallen in love with the lustre and versatility of English Leicester wool.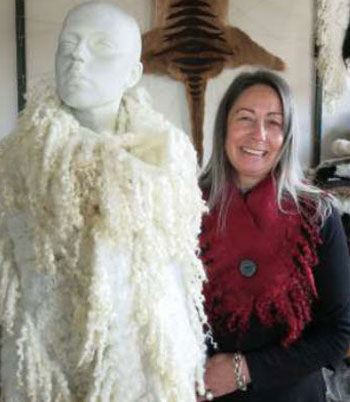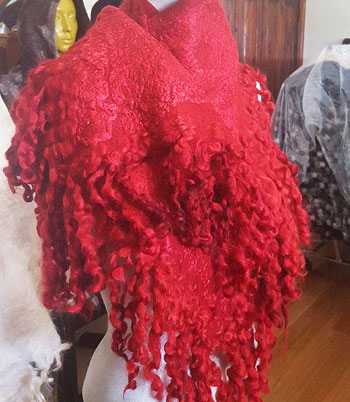 Who can resist those luscious lustrous locks !!! English Leicester has become one of my absolute favourite wools to create with. Not only is it very feltable it has by far, more lustre in the wool than many other sheep breed. The softness and aesthetic beauty of the fibre gives you an inkling of the magnificent animal from which this wool is produced. I am completely sold!
Rebecca has a Studio and Gallery in Battery Point, Hobart where she creates individual, unique wearable garments handmade from the best natural fibre.
English Leicester fleece in action:
Hawthorne Cottage
Textile artist Sue Flynn uses English Leicester fleece in many of her beautiful creations: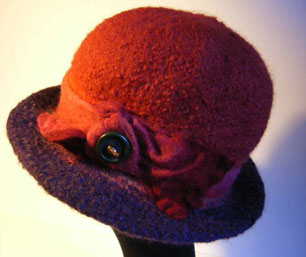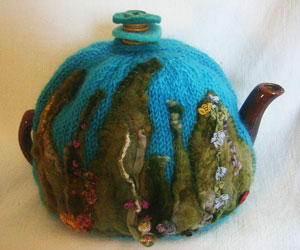 Sue says:
My interest in English Leicester sheep and fleece began when I attended sheep shows in my early 20s. My father had a Merino Stud and I had always had an interest in sheep. I came across the late Ian Morrish's English Leicesters at the Stawell Show and my first sheep purchase soon followed.
At this time I had taken up weaving and began using the English Leicester fleece. The fleece was easy to spin on a jumbo wheel and dyeing the lustrous fleece was like working magic. The fleece is very long wearing which is essential for a floor rug.
As I worked more with the fleece is realised that the fleece felt very silky if worsted spun. Thus the fleece is versatile and can be used for weaving or knitting.
At present I am spinning and dyeing a chunky English Leicester yarn which I sell on the internet and at the Arts Centre Market in Melbourne. As well I am weaving floor rugs and knitting and felting hats. There has also been an interest in felted fleece rugs used as props by photographers and I have been supplying these in many colours.
For more information: www.hawthornecottage.com.au
The Friendship Tree
Many of the handcrafted gifts and toys in The Friendship Tree use English Leicester fleece.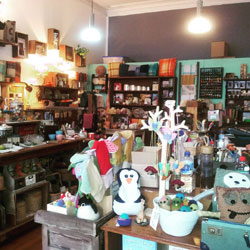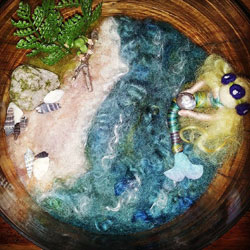 Donna says:
Our small business relies heavily on natural materials, especially wool. The English Leicester fleece is quality wool and a pleasure to work with. We have enjoyed dyeing it a range of colours and have used it for decorations and embellishments. For the more complex creations, we have found it to be a major component in our wet and dry felted projects.
These include: play scenes, felt mats, wall hangings, framed 3D woollen pictures and more recently in our variation of woollen terrariums
For more information: www.thefriendshiptree.com.au/.