The English Leicetser Association of Australia
Breed Description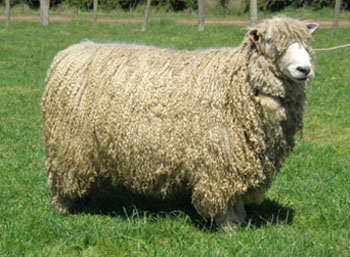 A champion English Leicester ram.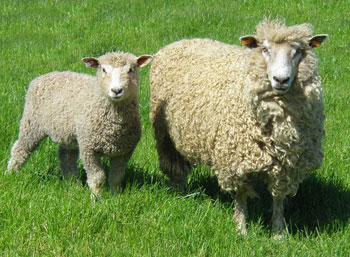 English Leicester ewe and lamb.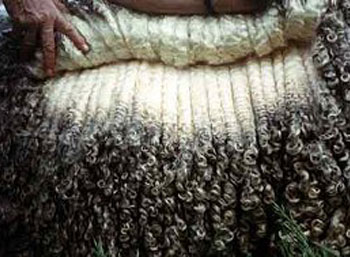 Broad staples with a well defined crimp.
Head & Face
Head carried well, not too high; neat, cleanly chiselled,wide between the ears, slightly tapering to the nostrils.
No sign of horns and carrying a light forelock.
Face in general form wedge shaped and covered with short, white hairs. Lips and nostrils black. Black specks on face and ears not objectionable. Face tending to blue.
Eyes/Ears
Eyes full sized and bright. Ears medium sized and alert.
Black spots not objectionable.
Neck/Shoulders/Chest
Neck is of medium length, strong and level with back.
Shoulders are upright and wide over the tops.
Breast should be deep, wide and prominent.
Back/Ribs
Back is wide and level, well filled up behind the shoulders,giving a great girth, showing thickness throughout the heart
and carrying firm even flesh.
The ribs are well sprung.
Hind Quarters
Full sized and square, showing good legs of mutton.
Tail well set on, almost level with back.
Legs & Feet
Legs straight, well set on and wide apart.
Short cannon bones, good pasterns, not sloping, and devoid of rust on legs.
Hoofs black.
Skin
Carriage
Free, active and well balanced.
Fleece 32-38 microns (40s - 46s count)
Dense, free, even and highly lustrous; lock medium width, showing small, well defined wave or crimp from skin to tip.
Constitution & General Appearance
Alert, robust, showing style and character.
Meat
The English Leicester is a dual purpose sheep. Confirmation pertains to quality cuts of meat. Broad flat back allows development of eye muscle whilst the full, rounded hindquarter provides two well muscled legs.
English Leicester meat is now available at selected Farmersí Markets in Victoria and Tasmania.